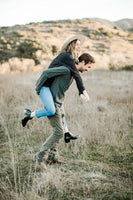 Welcome To Addison + Grey!
Addison + Grey is an online women's clothing boutique based out of San Diego. Our clothing and accessories reflect a Southern CA, coastal vibe with a flair of the mountain West.
We strive to make the women who wear our clothes feel empowered and encouraged to be the person they are called to be.
Every item we have is handpicked and curated just for Addison's gals (you!). We believe that every girl deserves to feel comfortable and trendy at the same time, without having to compromise on her wardrobe.
Owned by Lindsey & Adam Wagner, a husband and wife team. We are so grateful you're here!
ABOUT US
What #addisonsgals Are Saying
"Addison + Grey is my favorite California boutique! SO cute and the best quality, with really affordable prices!"

Christine L.
"I am obsessed with Addison + Grey! Everything is so cute and beachy, and totally my vibe. And I love that it's all reasonably priced!" 

Caroline V.
"I love love love this boutique! Thank you to Addison + Grey for making me and my closet so cute and stylish." 

Kari H.